You've probably seen the ads on daytime television, maybe on the sides of buses: The personal injury lawyers offering to help if you've been hurt.
That's the kind of lawyer Dan Ladendorf is, minus the TV ads and bus appearances. But the pitch is the same.
"From the moment you get rear-ended, you probably need a lawyer," Ladendorf said recently from his North Shadeland office, where he practices with his brother Mark Ladendorf and three other attorneys, Dustin Fregiato, Matthew Bigler, and Taylor Ivy.
"Now, I say that somewhat tongue in cheek, but from a personal injury standpoint, if you get bit by a dog or you're injured at a commercial business site, I don't know how their insurance company's going to respond to you.
"What I do know is that I'm not aware of any insurance company that is in the business of philanthropy."
Ladendorf has had friends call to say they've been in an accident and don't know if they need an attorney. He advises them to try working with the insurance company to see if they can get their claim resolved.
But there are "landmines" to be aware of: After a car accident, for example, your health insurance is probably going to be paying medical bills for your injuries.
"They want their money back from the party who caused the accident," Ladendorf says. "So, you're going to have to reimburse your insurance company for the medical bills they paid."
Public perception of Personal Injury Attorneys
Personal injury attorneys sometimes have to deal with the public's perception of their role. Ladendorf recalls jury selection during a trial in Hamilton County. A woman had been injured in a car accident, and Ladendorf asked the prospective jurors if they could hold the other driver responsible for damages if the attorney could prove to them that the other driver was responsible. Yes, they said.
How about recovering the cost of medical care and lost wages? Yes.
What about pain and suffering? Hold on a minute:
"I had six out of 14 people say that's what's frivolous about these cases."
In a case in which a person suffered a broken femur when rear-ended by a drunken driver, Ladendorf reminded them of the hassles involved in getting multiple car repair estimates, taking time off for doctor visits, missed family events, a lengthy recovery period.
"It can be tough in terms of what people come into a courtroom with, the thoughts they have about what personal injury is," Ladendorf said.
"I've never had a client walk out of here and say, 'Man, that was all worth it. I'd go through that again.' Most people are thinking, 'I just want to go to work. I just want to go about my life.'"
Be careful, dog owners
Today, Ladendorf thinks people are more accepting of the idea of accountability. What that means can be a surprise sometimes—for dog owners, for example: If a person has their dog out, it needs to be contained by a fence in the yard.
As a personal injury lawyer, he sees the bad things that can happen. Ladendorf—a dog owner himself–was out walking with a very good friend who has a dog that is trained to go without a leash.
"The whole time we were out, I was nervous as hell because I know what can happen," he said.
"You know your dog better than anyone. But remember, it's still a dog, and it may get startled. It may react in a way you've never seen before."
"There's a lot to do."
Ladendorf Law has been in its building at 7310 N. Shadeland Ave. for 21 years, and Dan Ladendorf has lived in Devonshire for 27 years.
He's still committed to the area but would like to see better city services—a perspective informed by his time as public information officer for William Hudnut, mayor of Indianapolis from 1976 to 1992.
"I look at things from an infrastructure standpoint—and our roads are horrible*. Go north of 96th Street (from Indianapolis into Hamilton County), and you don't find a pothole for miles."
He's encouraged by Community Health's investment in its campus on North Shadeland, and the North Shadeland Alliance's work in advocating for the area.
"I'm optimistic, but there's a lot to do," he said.
What keeps Dan Ladendorf going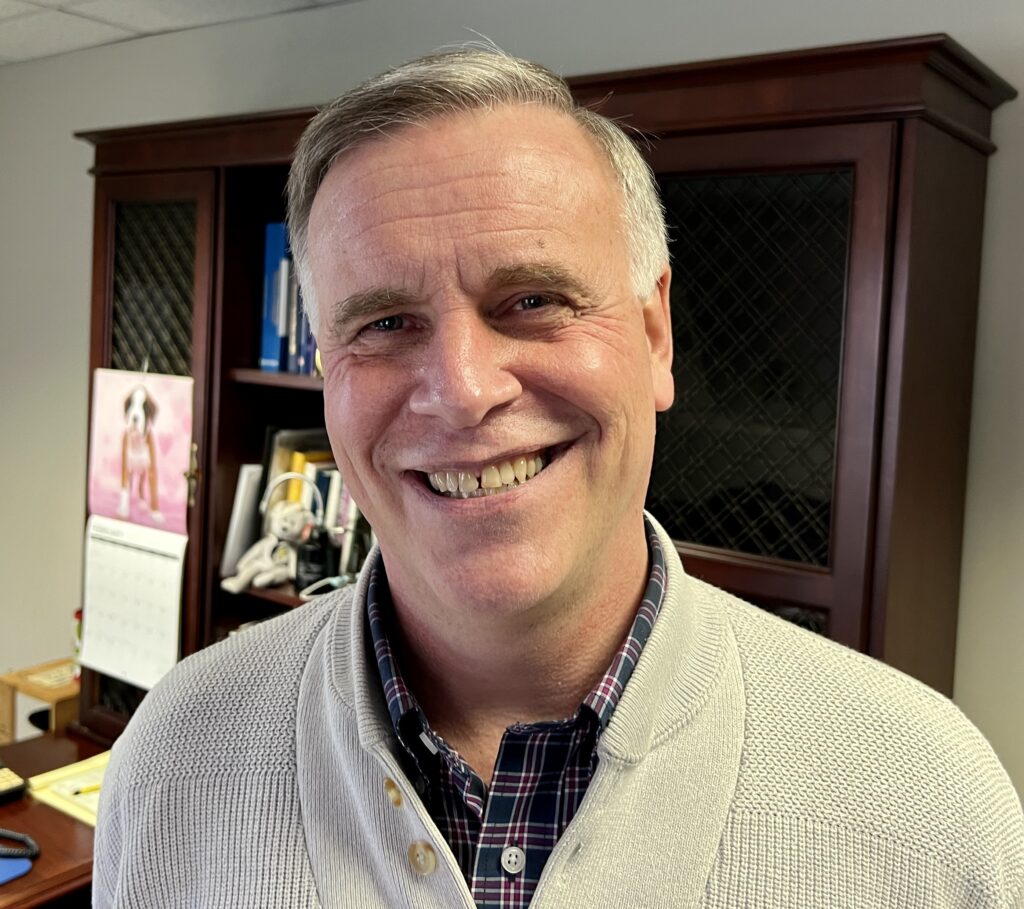 Ladendorf started as a deputy Marion County prosecutor and has been in civil practice for 23 years.
"Seeking justice is the only reason I keep coming back to work," he said.
"I loved what I did as a deputy prosecutor because I felt like I was helping to protect the community," he said.
"And when I came into civil practice it was a natural transition, because I had these victims who had been harmed through no fault of their own—and they're entitled to justice."
---
Learn more about how roads are funded in Indiana in THIS ARTICLE from City Councilor, Dan Boots.